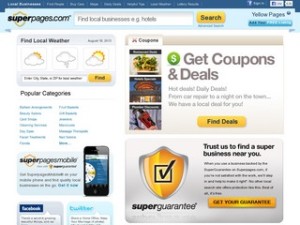 SuperMedia Inc. (Formerly Verizon) – Dallas, TX June 2005 – March 2010
Promoted and successfully assumed role as Director of Search Marketing and related technology activities for SuperMedia (NASDAQ: SPMD, 6,000+ Employees, $2.8 Billion Annual Revenue). that included two new internet products coupled with several acquisition candidates.
Director – Internet Marketing August 2008 – March 2010
• Responsibilities included P&L for $73 million, strategic planning, traffic, lead generation, online acquisition analysis and planning, client services, sales, affiliate marketing, technology and marketing for SuperMedia.com, Superpages.com, Switchboard.com, LocalSearch.com, EveryCarListed.com and Inceptor.com.
• Created $1 Billion Internet Vision for our online marketing department including a monthly subscription product that was presold for $5 million in 60 days.
• Led EveryCarListed.com online efforts increasing unique visitors from 15,000 to over 1 million per month and to achieve a top 10 Auto Vertical site in 13 months. Supported growth of several million to $20 million in auto sales leads.
• Increased site traffic to Superpages.com that grew revenues from $27 million to $58 million.
General Sales Manager – Division Operations March 2007 – August 2008
Promoted to manage Inceptor.com acquisition and all strategic and tactical planning for this full service online marketing agency and SEM software provider.
• Created first business to business sales team for C-level accounts. Responsibilities include P&L for $20 million in revenue, marketing, client services, sales staff, technology, legal, contract negotiations and finance.
• Customers included: CVS.com, HSN.com, Footlocker.com & Chase.com.
• Increased Gross Revenue by 23% and increased Net Revenue by 43%.
• Created a managed outbound call center coupled with a focused online content strategy to increase sales 27%.
• "Top 10 Agency of the Year" award from Goldline Media featured in Inc. Magazine.
Internet Marketing Manager – SEO April 2006 – March 2007
Promoted as the first SEO manager for Superpages.com. Led tactical plan to increase site traffic, lead generation and revenue growth for Superpages.com.
• Wrote code requirements and linking structures for Superpages.com site redesign.
• Led layout testing, increasing our CTR yield by 70%.
• Increased monthly performance based product revenue from $320K to $1.2 million per month.
• Received an Verizon Excellence Award.
Direct Sales – Major Direct Sales September 2005 – April 2006
First national direct sales position. Responsibilities included meeting sales quota, creating national level online advertising campaigns, and managing customer results.
• Wrote $861,780 in annual online advertising budgets in the fourth quarter at 369% to quota.
• Created business development partnerships with Weather.com.
• Was the number one internet sales consultant. Awarded two sales trips, an Excellence Award and 8 Six-Figure Awards.
Regional Direct Sales June 2005 – September 2005
Responsible for achieving sales quota and managing customers online advertising account.
• Wrote $140,210 in annual online advertising budgets in the third quarter at 257% to quota.
• Internet Sales Rookie of the year.